Dervish
March 9, 2019 — 8:00 pm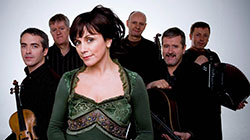 Dervish have been bringing Irish traditional music to the world for more than 25 years. Described by the BBC as "an icon of Irish music," the band have played at festivals from Rio to Glastonbury. They are regular visitors to the US, performing sell out shows from coast to coast. The band has a line-up that includes some of Ireland's finest traditional musicians, fronted by one of the country's best-known singers, Cathy Jordan. Dervish marries technical brilliance with a rare sensibility, born of an understanding of the music and many years of playing together.
Members Only Package: Buy two or more tickets to three or more shows at once and receive an additional 10% off when you call the museum at 231.995.1055.
Tickets are $24 for members, $27 advanced, and $30 at the door by calling the museum at 231.995.1055, MyNorth Tickets at 800.836.0717, or online here.