Albert Cummings
march 23, 2019 — 8:00 pm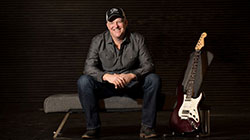 Albert Cummings writes, plays, and sings the blues like nobody else. He has played with blues legends B.B. King, Johnny Winter, and Buddy Guy. Taken with Albert's fire and passion, bassist Tommy Shannon and drummer Chris Layton, of late Stevie Ray Vaughan's rhythm section Double Trouble, volunteered to play on and produce his solo debut recording From the Heart. B.B. King dubbed Cummings "a great guitarist." Guitar Edge Magazine said, "Cummings effortlessly shifts from chimney subdued stylings to raucous roadhouse raunch to soaring yet stinging lead lines, driving his audience to frenzy in all the right places.
Members Only Package: Buy two or more tickets to three or more shows at once and receive an additional 10% off when you call the museum at 231.995.1055.
Tickets are $24 for members, $27 advanced, and $30 at the door by calling the museum at 231.995.1055, MyNorth Tickets at 800.836.0717, or online here.