Michael Cleveland + Flamekeeper
February 16, 2019 — 8:00 pm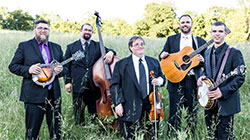 Michael Cleveland is one of the premier bluegrass fiddlers of his generation and, with ten International Bluegrass Music Association (IBMA) Fiddle Player of the Year awards under his belt, he is the most awarded and celebrated fiddler in the history of the music. Cleveland plays with so much fire, drive and virtuosity that audiences are often left shaking their heads in amazement. Together with his band Flamekeeper (five-time IBMA Instrumental Band of the Year Award winners) Cleveland delivers some of the most powerful, exciting and authentic bluegrass you can find.
Members Only Package: Buy two or more tickets to three or more shows at once and receive an additional 10% off when you call the museum at 231.995.1055.
Tickets are $24 for members, $27 advanced, and $30 at the door by calling the museum at 231.995.1055, MyNorth Tickets at 800.836.0717, or online here.