Irish Christmas in America
december 2, 2018 — 8:00 pm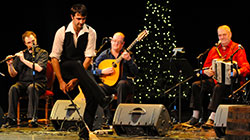 The hugely popular Irish Christmas in America show, now in its 14th season, features top Irish music, song and dance in an engaging performance rich in history, humour and boundless energy. Produced by Oisín Mac Diarmada of award-winning lrish group Téada, the 2018 tour brings back the amazing Séamus Begley, (TG4 Traditional Singer of the Year) along with the immense vocal talents of Sligo's Niamh Farrell.
This family-friendly performance features evocative Irish ballads, lively instrumental tunes and thrilling Irish dancing. Take a memorable glimpse into the enchanting spirit of Christmas, as the finest traditional artists from Ireland bring you on a fun-filled start to the holiday season.
Members Only Package: Buy two or more tickets to three or more shows at once and receive an additional 10% off when you call the museum at 231.995.1055.
Tickets are $24 for members, $27 advanced, and $30 at the door by calling the museum at 231.995.1055, MyNorth Tickets at 800.836.0717, or online here.