Jazz Reach Presents Metta Quintet
november 29, 2018 — 8:00 pm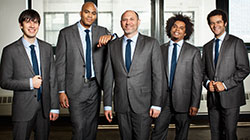 Get Hip! Jazz music is about community interaction, collaboration, and teamwork and throughout its history has celebrated the diversity of the peoples who comprise our national character. It puts into esthetic action the most noble of our democratic ideals and aspirations and offers a vivid reflection of our cultural heritage and the human experience. The performance features a stellar program of jazz classics and original compositions by some of today's most creative, sought after artists on the New York jazz scene!
Metta Quintet is fueled by a collective, open-minded musical curiosity and dedicated to exploring new artistic territory while maintaining a passionate commitment to arts education, fostering new audiences and nurturing young talent.
Established in 1994, JazzReach is a nationally recognized New York City-based 501(c) (3) not-for-profit organization dedicated to the promotion, performance, creation and teaching of jazz music. Artistic programming is carried out by the organization's critically acclaimed resident ensemble, Metta Quintet.
JazzReach's programs are supported in part by Art Bridges, who focuses on sharing outstanding works of American art with those that have limited access to our country's most meaningful works.
Members Only Package: Buy two or more tickets to three or more shows at once and receive an additional 10% off when you call the museum at 231.995.1055.
Tickets are $24 for members, $27 advanced, and $30 at the door by calling the museum at 231.995.1055, MyNorth Tickets at 800.836.0717, or online here.