Lil' Ed and The Blues Imperials
Saturday, May 6, 2017 — 8:00 P.M.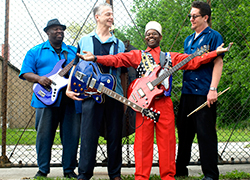 From the smallest blues bars to the biggest international concert stages, master bluesman Lil' Ed Williams has come a long way. Mixing smoking slide guitar boogie and raw-boned Chicago shuffle with the deepest slow-burners, Lil' Ed and The Blues Imperials — bassist Pookie Young, guitarist Mike Garrett and drummer Kelly Littleton — deliver the blues, from riotous and rollicking to emotional and moving. Lil' Ed & The Blues Imperials ply their musical talents with skills honed to a razor's edge. Together they continue to make blues history with each performance.
Tickets are $27, $24 for museum members, and $30 at the door (additional fees apply). Purchase tickets online here, or call 800.836.0717. 
http://www.alligator.com/artists/Lil-Ed-and-The-Blues-Imperials/