David Lindley
Saturday, April 8, 2017 — 8:00 P.M.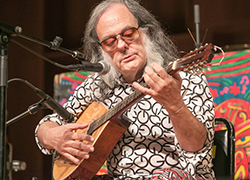 Multi-instrumentalist David Lindley performs music that redefines the word "eclectic." Lindley, well known for his many years as the featured accompanist with Jackson Browne, and leader of his own band El Rayo-X, has long championed the concept of world music. The David Lindley electro-acoustic performance effortlessly combines American folk, blues, and bluegrass traditions with elements from African, Arabic, Asian, Celtic, Malagasy, and Turkish musical sources.
Tickets are $27, $24 for museum members, and $30 at the door (additional fees apply). Purchase tickets online here, or call 800.836.0717.