Toronto Inuit Art Trip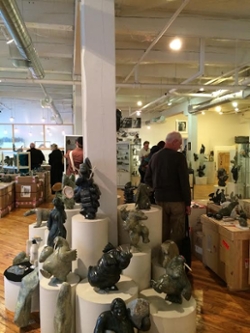 Join Dennos Museum Store Manager, Terry Tarnow, and other museum staff Thursday, May 4 - Sunday, May 7, 2017 for an excursion to the Inuit Showrooms in Toronto, Ontario. This trip gives collectors an opportunity to visit four Inuit showrooms not usually open to the public. For the collector, it is a wonderful opportunity to purchase carvings, prints, textiles and gift items.
Travel day is Thursday, May 4. All guests travel on their own and meet in Toronto where a block of rooms has been reserved at the Bond Place Hotel. Friday will be a non-stop day of visiting the Inuit showrooms. Saturday, the group will visit galleries and museums in Toronto. Due to the small size of the showrooms, the trip is limited to 20 guests. There is a registration fee of $25 per person. Deadline for hotel reservations is March 28.
Details for the Trip are included on the Registration Form here.
For additional information contact Terry Tarnow at 231-995-1587 or ttarnow@nmc.edu.