Carrie Newcomer
Friday, March 10, 2017 — 8:00 P.M.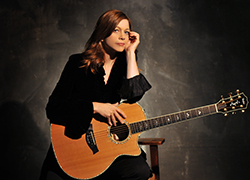 Carrie Newcomer's music has always explored the intersection of the spiritual and the daily, the sacred and the ordinary. Over the course of her career she has become a prominent voice for progressive spirituality, social justice and interfaith dialogue. Her ability for sharp observation of the world lead the Dallas Morning News to rave, "She's the kind of artist whose music makes you stop, think and then say, 'that is so true.'"
She has been described as "a soaring songstress" by Billboard, a "prairie mystic" by the Boston Globe, and Rolling Stone has declared that Newcomer "asks all the right questions." Author Barbara Kingsolver wrote, "She's a poet, storyteller, snake-charmer, good neighbor, friend and lover, minister of the wide-eyed gospel of hope and grace."
Tickets are $27, $24 for museum members, and $30 at the door (additional fees apply). Purchase tickets online here, or call 800.836.0717.