Gerhardt Knodel - Minglings: A Journey Across Time
june 9, 2019 — september 1, 2019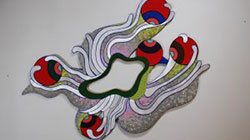 Living in a time when negotiation between individuals is such a dominant aspect of public and private lives, what about the negotiation that occurs silently in the artist's studio as mark-making and material manipulation link to earlier precedents?
In this work, Michigan artist Gerhardt Knodel collides the time and circumstances separating a 17th century Chinese silk tapestry with 21st century sensibilities.  Fragments of fantastic images generated centuries ago serve as DNA for the new, extending the past into the present moment of time, and perhaps even offering a link to the future.  The exhibition presents a three-dimensional environment inviting the viewer to inhabit the spirit, fantasy and inspiration of the original textile.
This body of work continues Knodel's exploration of the potential of the fabric medium in a technique of his invention reminiscent of intricate fabric structures of the past.  Relating to the Chinese inspiration, all of the materials used in the current work are mass produced in China, and commonly available to today's consumer.