DRAW NoMI: Making Art Together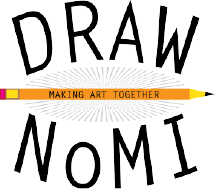 DRAW NoMI is a collaborative arts event focused on bringing people together to make art. Partners include Art Rapids!, Crooked Tree Arts Center - Traverse City, Great Lakes Children's Museum, Jordan River Arts Council, Oliver Art Center, SEEDS, and Traverse Area District Library. Join us for events in October and throughout the year! Just look for the logo! DRAW NoMI is supported by the Linda O'Meara Fund for Arts Education.
DRAW NoMI – FALL 2018
Family-friendly programming with DRAW NoMI is back this fall. These special days feature a variety of activities for children and families, ranging from hands-on art days to in-depth workshops.
Friday, November 23, 2018 - 10am-5pm
Black Friday Fun Day
Dennos Museum Center
FREE
Bring the whole family for a fun day of exploring the world through the galleries of the Dennos. From the tundra of the Arctic Circle to the landscapes of America and beyond, travel the world throughout the galleries while completing your own scavenger hunt for stickers and other prizes. Supported by the Linda O'Meara Fund for Arts Education. The Museum will be free admission to everyone.
More events coming soon!