DRAW NoMI: Making Art Together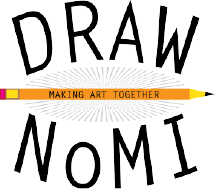 DRAW NoMI is a collaborative arts event focused on bringing people together to make art. Partners include Art Rapids!, Blackbird Arts, Crooked Tree Arts Center - Traverse City, Great Lakes Children's Museum, Jordan River Arts Council, Oliver Art Center, SEEDS, and Traverse Area District Library. Join us for events in October and throughout the year! Just look for the logo! DRAW NoMI is supported by the Linda O'Meara Fund for Arts Education.
2017 Events
FREE UNLESS OTHERWISE NOTED
Martina Hahn
Traverse Area District Library - Main Library
Thursday, October 5, 2017
6:00 - 7:00pm
FREE
Join artist Martina Hahn for a night of high energy storytelling and painting as she completes a 5' X 5' work of art in front of your eyes. During the program, Ms. Hahn will explain origins, historic value, and fun facts utilizing art, literature, and music in a non-conventional way. Join us in the Youth Services Department at 5 p.m. to begin work on our collaborative sticker mosaic.
Linda O'Meara Day of the Arts
Dennos Museum Center
Saturday, October 7, 2017
11:00am - 4:00pm
FREE
Visit the Dennos for a day of celebrating the arts. Local partners and artists will be on hand to help inspire your work, whether it's a drawing, painting, dance, or performance - anything goes! Day of the Arts is the official kick-off event for DRAW NoMI, a new collaboration whose purpose is to encourage Making Art Together. Supported by the Linda O'Meara Fund for Arts Education.
Draw ER
ArtRapids!
Saturday, October 7, 2017 (Rain Date: October 14)
10:00am - 4:00pm
FREE
Come join your neighbors, friends and fellow artists for a day of drawing together anywhere in Elk Rapids. Beginning artists as well as experts are welcome. Artists are welcome to use supplies provided by Art Rapids, or they may use their own materials. Pick up information and drawing supplies at 113 River Street, next to Stoney Cabin Toys. Look for the colorful tree! The finished piece needs to be in an 8" by 10" format to fit our mats. At the end of the drawing day, we will collect the drawings, mat them and prepare for a show. Reception to follow on October 21 at Up North Center.
Ongoing
Oliver Art Center
Using the theme of NoMI (Northern Michigan) - students, art center visitors, and Benzie library patrons will create works of art inspired by their memories, interpretations, and experiences of Northern Michigan. Oliver Art Center will host an ongoing installation of these works throughout the month of October, and host work by Frankfort-Elberta Schools.
Drawing Wall
Traverse Area District Library - Main Library
Sunday, October 8 - October 31, 2017
During regular library hours
FREE
Draw your favorite animated superhero on the cityscape wall or accompanying buildings in our Youth Services Department.
Show ER
Up North Center
Saturday, October 21, 2017
1:00pm - 4:00pm
FREE
Drawings collected from the Draw ER event on October 7 will be exhibited at the Up North Center on October 21, with light refreshments. Artists are invited to pick up their drawings after October 21. The Up North Center is located at 103 1st Street, Elk Rapids, MI.
"Boo-ti-ful" Art!
Great Lakes Children's Museum
Saturday, October 21, 2017
11:00am - 2:00pm
General Admission Rates Apply
Art is "Boo-ti-ful!  Come to the Great Lakes Children's Museum and help paint a spooky mural on our front windows!  Make ink blot paintings and use your own creativity to  turn them into ghosts, ghouls, and monsters. Design your own artsy trick-or-treat bag, and more. Boo is beautiful.
Leaf and Spice Plaque
Traverse Area District Library - Main Library
Saturday, October 21, 2017
11:00am - 1:00pm
FREE
Create a one-of-a-kind leaf plaque using spices to animate your leaf design. Bring a favorite leaf for your outline or use one of ours. With artist Marionette Kubicz.
Stop, Drop and Draw! presented by Blackbird Arts
Location: Everywhere
Saturday-Monday,  October 21-23, 2017
11:00am and 6:00pm each day
FREE
Join schools, community groups, artists, and families for a fun reminder to DRAW. We're asking everyone to set their alarms for 11am and/or 6pm. When the alarm sounds, stop what you're doing, whip out a pencil and draw whatever you see wherever you are. Take two minutes or two hours. Snap a picture and write your name and age (optional) on the drawing and email it to info@blackbirdartstc.org. We'll put it in our online gallery for all to see! Friends near and far can participate, so join the drawing fun.
Spooky Science Night
SEEDS – Kaleva Norman Dickson Schools
Thursday, October 26, 2017
3:30 – 6:00pm
FREE
Come help us Shine a Light on After School Programming with a safe, family night of spooky learning and Halloween fun. There will be raffle prizes, food, and music, along with science experiments and drawing activities.
Trick-Or-Treat-Or-Draw
Dennos Museum Center
Saturday-Sunday, October 28-29, 2017
During Open Hours
FREE
Put on your best Halloween costume and stop by to pick up some drawing-themed goodies and add to our collaborative drawing. And while you're at it, get some holiday shopping done during the annual Dennos Museum Store Holiday Sale!
Black Friday Fun Day: Join the Arts Explorers' Club
Dennos Museum Center
Friday, November 24, 2017
10:00am - 5:00pm
FREE
Bring the whole family for a fun day of exploring the world through the galleries of the Dennos. Travel to the frozen tundra of the Arctic Circle, learn about art, and do some drawing while staying warm inside the museum! A special passport will be given to each group.