DRAW NoMI: Making Art Together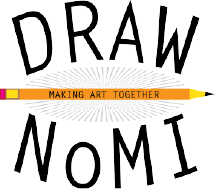 DRAW NoMI is a collaborative arts event focused on bringing people together to make art. Partners include Crooked Tree Arts Center - Traverse City, Traverse Area District Library, and Twisted Fish Gallery. Join us for events in October and throughout the year! Just look for the logo! DRAW NoMI is supported by the Linda O'Meara Fund for Arts Education.
 DRAW NoMI – 2019 ProgramS
 Events by Date & LocatioN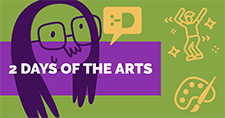 Linda O'Meara Days of the Arts
October 12, 2019 – Noon – 4:00pm
October 13, 2019 – 1:00 – 4:00pm
Dennos Museum Center
Free Admission
Join Dennos volunteers, local partners, and artists for two days to celebrate the arts! Participants will be able to draw, print, dance, and play their way through the galleries, kicking off our annual DRAW NoMI programs that bring people together to make art. Free admission for everyone thanks to the Linda O'Meara Fund for Arts Education.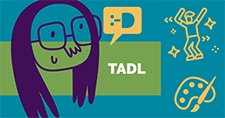 Tween Art Contest @ TADL
Traverse Area District Library – Main Branch
For ages 9 – 12
Deadline for submission: October 11
8.5 X 11 version of tween's proposal due to Youth Services, September 23rd - October 11. Art work to be completed on the windows in the Main Library's Tween Scene, October 11th - 19th (all supplies provided). For more information, please contact the Youth Services Department at 231-932-8503 or visit the website here.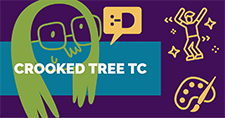 Community Printmaking Day @ Crooked Tree Arts Center
October 12, 2019
10:00 am - 2:00 pm
FREE
Join us for a day of hands on printmaking and touring the galleries to see Floating World - Japanese Wood Block Prints and Original: Juried Contemporary Prints. We will have fish printing, screen printing, Styrofoam printing and steam roller printing! If you are interested in making a large wood block print please click here to learn more about the materials and process.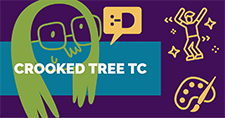 Drawing Workshop with Nadia Moehle @ Crooked Tree Arts Center
Friday, October 18, 2019
6:00 - 8:30 pm
With paper, pencil, and your own mind learn to capture the world around you. Through practice and observation you'll learn essential drawing skills like shading, drawing 3D shapes, exploring values, and some helpful tips and tricks. This beginners workshop will give you tools and confidence to begin, or refresh, your artistic journey. (No prior drawing experience necessary.)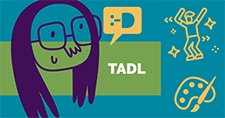 Painting to the TSO: Halloween Version
Traverse Area District Library – Main Branch
Monday, October 28, 2019
11:00am
Kids take painting to another level as musicians from the Traverse Symphony Orchestra join us to play Halloween-themed music while we paint. Children will explore how music effects what and how they paint (or just enjoy some outstanding background music while they're working). Families should wear clothes that can get paint on them. We'll begin our program with a reading of The Noisy Paint Box, a story about the painter Vasily Kandinsky and how he learned to paint to music.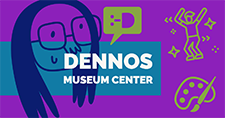 Black Friday Fun Day: Join the Arts Explorers' Club
Friday, November 29, 2019
Dennos Museum Center
Open Hours, Included with General Admission
Take a break from the long lines and door-buster sales by visiting the Dennos Museum Center's galleries with your family. A passport will be provided to help guide you through wonderful wood sculptures, exquisite art quilts, and various other galleries throughout the Museum. Travel the world, one artwork at a time! Supported by the Linda O'Meara Fund for Arts Education.
Ongoing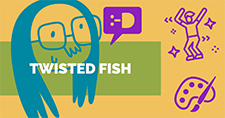 Doodle Day @ Twisted Fish Gallery
Every second Saturday of the month
October 12 & November 9, 2019
1:00 – 3:00pm
This FREE event welcomes all who want to express themselves through creative exercises geared towards artists (or non-artists) of all levels. Kids are encouraged! Participants can bring their own materials, but we provide all paper and drawing utensils necessary. Weather permitting, we go outside to doodle.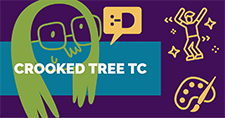 Drawing Lab with Richie Gunn @ Crooked Tree Arts Center
Every second Saturday of the month (except December)
October 12 & November 9, 2019
10:00 am – 12:00 pm
$5
Curious about sketching or drawing? Or maybe you need to dust off your sketchbook? Richie Gunn's relaxed approach will give you the boost to enhance your daily practice or perhaps encourage you to start drawing regularly. The second Saturday of each month, Richie will highlight a new approach that will have you leaving inspired and motivated. You are encouraged to sign up in advance to reserve your spot in the class.  Supplies are included. You are encouraged to bring your own sketchbook and tools, if you have them, to increase the likelihood of continuing the practice at home.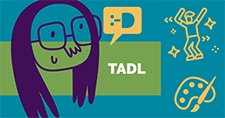 Drawing Wall in the Youth Services Department @ TADL
Traverse Area District Library – Main Branch
October 1 – 31, 2019
Get creative with your kiddos in the Youth Department as our ever popular Drawing Wall returns to celebrate DRAW NoMI this October. Blue paper covers the wall nearest the Youth Services Desk and you add your creativity to the process. Available any time the library is open.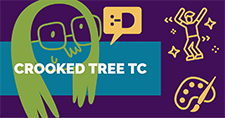 Creation Station @ Crooked Tree Arts Center
FREE
Free, hands-on, self-guided art activities for all ages! This fall, drop in during gallery hours and learn about different printmaking techniques, and make your own print!  Each month is a new activity.